Thank you Danielle at the Introverted Book Nerd for tagging me!
A character appearance that you misread or imagined differently.
Jamie from Outlander, I'm not really sure how I pictured him. I think I just had a hard time actually picturing him.  But I love Sam Heughan's portrayal. He's amazing as Jamie. I wish I got to watch the show more, I'm way behind!
A character name that you have been pronouncing wrong.
I think everybody might have stuttered over Hermione from Harry Potter, at least until the movies came out!  Even Viktor Krum had a hard time with it!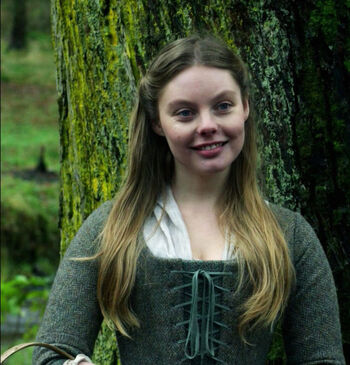 And then  there's Laoghaire  from Outlander.   I always thought it was La-heerie but it's actually LEE-ree.  Oops!
An overused trope that is your guilty pleasure.
The one who appears as the good guy is the murderer. I love a good plot twist!
A cliche character type that you like better on screen than reading about.
It's the funny ones, like the Weasley brothers!  They are so funny in the movies, it's really difficult to capture that humour with the written word.
Have you ever not read or completed a required-reading book for school?
Never!
Have you ever skipped (or wanted to) a chapter from the point of view of a character you weren't interested in?
Of course, but I never do. It might be important to the story later on! I have read the last page of a book before, though!
Have you ever canceled social plans to read a book?
Oh yes.
I tag..