My son received Harry Potter and the Cursed Child as a gift at Christmas time.  He has yet to read it, and it was kicking around since, calling my name.  
Part of the reason I was hesitant to start reading it is the fact that it is a screenplay. Not a novel.  A bit of a disappointment, but okay.  It is Harry Potter, after all! Once I got into the story, I didn't mind the screenplay as much as I thought I would.
I don't think I felt as close to the characters as I should have, in particular the newest characters Albus and Scorpius.  The authors did a good job of getting their personalities across but at the same time, there was a rigidity about them, they weren't quite as fleshed out as you would see in a novel.
The story is set 19 years after the Deathly Hallows.  Harry is married to Ginny and they have three children, James, Albus and Lily.  The story opens at King's Cross Station where Albus is preparing to board the Hogwarts Express for his first year at Hogwarts.
Albus is having a time of it.  Unlike his brother James, and what the rest of the wizarding world would expect from the son of Harry Potter, Albus isn't excelling, to say the least, and is getting a fair bit of flack for it.  
He is sorted into Slytherin instead of Gryffindor, cannot call his broom 'up' and befriends Draco Malfoy's son, Scorpius, instead of other, more suitable companions.  As very different personalities, Harry and Albus are struggling deeply in their relationship.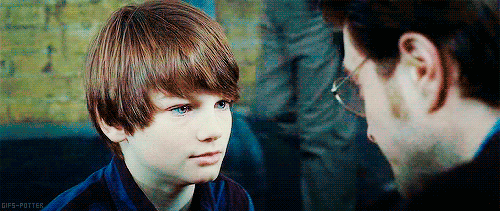 What I liked
Overall, I really enjoyed reading Harry Potter and the Cursed Child because it's Harry Potter's world.  It's Magic, Time Turners, the Marauders Map, Hogwarts and the Floo Network.  It's the characters, Harry, Ron, Hermione and Draco.  Its seeing their children grow and work through their own challenges.
The disastrous fallout of changing time, even if only slightly was an interesting concept and I enjoyed the interactions between Dumbledore's portrait with Harry.
What I didn't like
I hate to complain about things being unrealistic. It is a fantasy, so anything is possible, right?  But there were strange things that just didn't click with the original books.  Like polyjuice potion…wasn't that stuff really hard to make? Would time turners really have a time limit?  
I don't want to put out any spoilers here, but it just seemed that certain events were bent a little far to make the story work.  
Have you read Harry Potter and the Cursed Child?  Did you enjoy it?  Would you like to read a book in this format?