Thanks to Patty at Moohnshinescorner for tagging me!  I love Patty's blog, she has tons of fun book reviews and little snippets into her daily life.  Stop by her blog and check it out!
Such an exciting thing to do discussing the middle of the year in our book challenges.
1 – THE BEST BOOK YOU'VE READ SO FAR IN 2017
Really?  That is a tough one!  They were all good!  I'm going to take the easy way out and say all the books below except #5.  There.
2 – YOUR FAVORITE SEQUEL THIS YEAR
This is certainly not a new series, but its 'new to me'.
I had read all the Harlan Coben books in the library and was looking for a good murder mystery.   I mentioned this to a friend of mine at the library and she suggested I try Henning Menkell's Kurt Wallander series.
It's a refreshing take on crime solving.  Kurt Wallander is a detective inspector in southern Sweden.  He has great instincts, but he is also real person, with real faults, he ages, he gets sick.  I find his character so refreshing because of this.  There's a reflection of society in the books and I also enjoy reading about daily life in these Scandinavian and East European countries.
3 – A NEW RELEASE THAT YOU HAVEN'T READ BUT REALLY WANT TO
I've noticed the reviews on this one haven't been the greatest.  That doesn't stop me.  I have to read it for myself!
I LOVED the Girl on the Train and I'm hoping Paula Hawking doesn't let me down 🙂
4 – MOST ANTICIPATED RELEASE FOR THE SECOND HALF OF THE YEAR
Yes.  Dan Brown.  I loved the Davinci Code in spite of some of the negativity surrounding his writing and plot, blah, blah,blah.  I. Can't. Wait. for this book to come out!
5 – YOUR BIGGEST DISAPPOINTMENT
I should explain that Harlan Coben gives a clear warning and an apology at the beginning of this book.  He wrote it when he was in his twenties and admits its not his best work.  I'll forgive him for that!
So, although it is far fetched and just not very believable, I did enjoy the book and took it with a grain of salt based on Mr. Coben's fair warning.
6 – BIGGEST SURPRISE OF THE YEAR
What an amazing book! A friend recommended this to me, and I really wasn't sure about it…it just didn't seem to be my thing.
But wow, I was blown away!
Sarah Nickerson is an over achieving, affluent mom and wife who finds her world turned upside down after a car accident.
A traumatic brain injury completely erases the left side of her world, and for once, Sarah relinquishes control to those around her, including her formerly absent mother.
Now, as she wills herself to regain her independence and heal, Sarah must learn that her real destiny—her new, true life—may in fact lie far from the world of conference calls and spreadsheets. And that a happiness and peace greater than all the success in the world is close within reach, if only she slows down long enough to notice.
7 – FAVORITE NEW TO YOU OR DEBUT AUTHOR
I picked up one of Coben's books one day and wanted more.  A steady stream of his books made their way from the library to my house.  I've read just about all of them.  Except maybe Home. That's on my TBR list 🙂
8 – YOUR NEW FICTIONAL CRUSH
When I was reading the series, I discovered that BBC also created a series of TV shows based on the books!  Kenneth Branagh played Wallander and did an amazing job.
 10 – A BOOK THAT MADE YOU CRY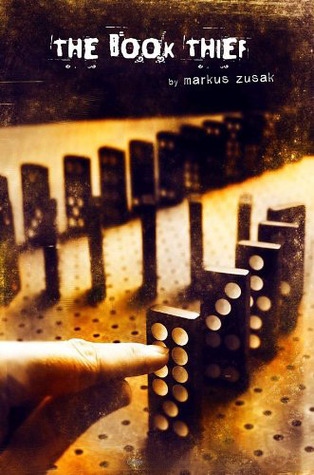 The Book Thief is set in Germany during World War 2.  It's about a girl, Liesel and it is narrated by Death.
Beautifully written and poignant.  And yes, I cried.
 11 – A BOOK THAT MADE YOU HAPPY
This book is a middle grade novel by my friend and author Sherry Ramsey!  Sherry is not only a fantastic writer, she is an amazing person and is continually promoting writing in our community.  She runs our bi-monthly writers group and teaches writing in the schools.
The book's main character Rosinda grows wonderfully through the story as she learns her past and recovers her memory.
She is accompanied on her journey by a crow, a boy, a cat and a wolf.  What's not to love about this?
 12 – YOUR FAVORITE BOOK TO MOVIE ADAPTATION THAT YOU'VE SEEN THIS YEAR
Yes.  King Arthur.  Legend of the Sword.  Awesome movie.  If you haven't seen it yet, you should.
The movie took quite a bit of artistic license with the legend, but its okay.  Because it was that good.
13 – FAVORITE BOOK POST YOU'VE PUBLISHED THIS YEAR

You can check it out my post here:
14 – THE MOST BEAUTIFUL BOOK YOU HAVE BOUGHT/RECEIVED THIS YEAR
Most of the books I've read this year have been either library books or on my Kindle so, although its not from this year, I'll show one of my favourite books from my library.  I pinched these pics from the web, but I have the same book 🙂
It's illustrated!  With actual pictures from all the sites that Robert Langdon visited!  Love this book.

Look at the photos! Aren't they gorgeous?!
 15 – WHAT ARE SOME BOOKS THAT YOU NEED TO READ BY THE END OF THE YEAR

There are so many more…seriously!
I TAG:
And anyone else who'd like to participate…
Have fun with it guys!