The Top Ten Tuesday Meme is hosted by the blog The Broke and the Bookish.  Every week they recommend a topic of Top Tens to post.  It highly recommend their blog, hop on over to their blog and check it out!
For this Tuesday, the topic of the week is Summer Reads Freebie!  In no particular order, here's my recommendations for some summer/beach reads, books to go in your beach bag, the BEST books for summer.  Some of these I have read already, most are on my TBR list 🙂
1. Big Little Lies by Liane Moriarty
    Sometimes it's the little lies that turn out to be the most lethal…
A murder…a tragic accident…or just parents behaving badly?
What's indisputable is that someone is dead. But who did what?
Big Little Lies follows three women, each at a crossroads.
This book is now an HBO miniseries!  It premiered February 19, 2017 and concluded April 2, 2017.
2. Dear Mr. M by Herman Koch
Once a celebrated writer, M had his greatest success with a suspense novel based on a real-life disappearance. It told the story of a history teacher who went missing one winter after having a brief affair with a beautiful student of his. The teacher was never found. Upon publication, M's novel was a runaway bestseller, one that marked his international breakthrough.
That was years ago, and now M's career is fading. But not when it comes to his bizarre, seemingly timid neighbor who keeps a close eye on him and his wife. Why?
From alternating points of view, where no one is to be trusted, Herman Koch weaves together an intricate tale of a writer in decline, a teenage couple in love, a missing teacher, and a single book that entwines all of their fates. Thanks to M's novel, supposedly a work of fiction, everyone seems to be linked forever, until something unexpected spins the "story" off its rails.
With ever increasing tension, his signature sardonic wit and world-renowned sharp eye for human failings, Herman Koch once again spares nothing and no one in his gripping new novel, a barbed performance that suspends readers in the mysterious space between fact and fiction. (from Amazon)
3. The Handmaid's Tale by Margaret Atwood
In this multi-award-winning, bestselling novel, Margaret Atwood has created a stunning Orwellian vision of the near future. This is the story of Offred, one of the unfortunate "Handmaids" under the new social order who have only one purpose: to breed. In Gilead, where women are prohibited from holding jobs, reading, and forming friendships, Offred's persistent memories of life in the "time before" and her will to survive are acts of rebellion. Provocative, startling, prophetic, and with Margaret Atwood's devastating irony, wit, and acute perceptive powers in full force, The Handmaid's Tale is at once a mordant satire and a dire warning.
The book was released in 1985, but what a perfect time to pick it up again!  It premiered as a 10 episode series in April, 2017.  It's now set to have it's second season to premiere in 2018. (from Amazon)
It is 1984, and the worlds' three major powers-Oceania, Eurasia and Eastasia-are constantly at war. In Oceania, where the Party is in power, the thought police unearth every act of dissent, and Big Brother is always watching. Winston Smith, a dutiful citizen of Oceania, works for the Ministry of Truth as a propaganda writer who rewrites history to suit the needs of the authoritarian government. But when Winston falls in love with fellow worker Julia, they begin to question the very system they work for, placing them in immense danger. Pursuing their forbidden love affair, Winston plans a rebellion against the Party in order to regain the freedom to shape his own future. But the ever-watchful Big Brother will not tolerate opposition, and for those who speak up against the system or dare to think what the Party does not want them to think, Room 101 awaits them . . .
1984 is George Orwell's haunting prophesy of the future, which has held multiple generations of readers spellbound in its chilling and terrifying vision of life under a totalitarian regime. Powerful and unforgettable, this still-relevant novel explores the obliteration of truth, individuality and liberty in a world where the ruling power seeks to control everything, from information to thought and memory. (from Amazon)
Check out here why the New York Times is calling 1984 a must read for 2017.  "1984" shot to No. 1 on Amazon's best-seller list this week, after Kellyanne Conway, an adviser to President Trump, described demonstrable falsehoods told by the White House press secretary Sean Spicer — regarding the size of inaugural crowds — as "alternative facts." It was a phrase chillingly reminiscent, for many readers, of the Ministry of Truth's efforts in "1984" at "reality control."
5. The Destroyers by Christopher Bollen
   When Charlie and I were young, we played a game called  Destroyers. . . . We were sharpening our instincts, jettisoning attachments. We were honing strategies for survival. . . .
Arriving on the Greek island of Patmos broke and humiliated, Ian Bledsoe is fleeing the emotional and financial fallout from his father's death. His childhood friend Charlie—rich, exuberant, and basking in the success of his new venture on the island—could be his last hope.
At first Patmos appears to be a dream—long sun-soaked days on Charlie's yacht and the reappearance of a girlfriend from Ian's past—and Charlie readily offers Ian the lifeline he so desperately needs. But, like Charlie himself, this beautiful island conceals a darkness beneath, and it isn't long before the dream begins to fragment. When Charlie suddenly vanishes, Ian finds himself caught up in deception after deception. As he grapples with the turmoil left in his friend's wake, he is reminded of an imaginary game called Destroyers they played as children—a game, he now realizes, they may have never stopped playing.
An enthralling odyssey and a gripping, expansive drama, The Destroyers is a vivid and suspenseful story of identity, power and fate, fathers and sons, and self-invention and self-deception, from a writer at the very height of his powers. (from Amazon)
Now available for preorder.  Release date June 27,2017.
6. Relativity by Antonia Hayes
A "beautifully written, heartbreaking" (S.J. Watson) debut novel about a gifted boy who discovers the truth about his past, his overprotective single mother who tries desperately to shield him from it, and the father he has never met who has unexpectedly returned.
Twelve-year-old Ethan Forsythe, an exceptionally talented boy obsessed with physics and astronomy, has been raised alone by his mother in Sydney, Australia. Claire, a former professional ballerina, has been a wonderful parent to Ethan, but he's becoming increasingly curious about his father's absence in his life. Claire is fiercely protective of her talented, vulnerable son—and of her own feelings. But when Ethan falls ill, tied to a tragic event that occurred during his infancy, her tightly-held world is split open.
Thousands of miles away on the western coast of Australia, Mark is trying to forget about the events that tore his family apart, but an unexpected call forces him to confront his past and return home. When Ethan secretly intercepts a letter from Mark to Claire, he unleashes long-suppressed forces that—like gravity—pull the three together again, testing the limits of love and forgiveness.
Told from the alternating points of view of Ethan and each of his parents, Relativity is a poetic and soul-searing exploration of unbreakable bonds, irreversible acts, the limits of science, and the magnitude of love. (from Amazon)
7. The Girls in the Garden by Lisa Jewell
Imagine that you live on a picturesque communal garden square, an oasis in urban London where your children run free, in and out of other people's houses. You've known your neighbors for years and you trust them. Implicitly. You think your children are safe. But are they really?
On a midsummer night, as a festive neighborhood party is taking place, preteen Pip discovers her thirteen-year-old sister Grace lying unconscious and bloody in a hidden corner of a lush rose garden. What really happened to her? And who is responsible? (from Amazon)
8. Into the Water by Paula Hawkins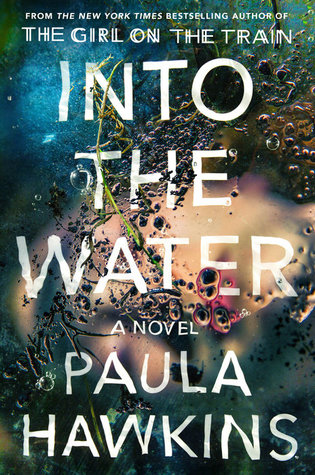 A single mother turns up dead at the bottom of the river that runs through town. Earlier in the summer, a vulnerable teenage girl met the same fate. They are not the first women lost to these dark waters, but their deaths disturb the river and its history, dredging up secrets long submerged.
Left behind is a lonely fifteen-year-old girl. Parentless and friendless, she now finds herself in the care of her mother's sister, a fearful stranger who has been dragged back to the place she deliberately ran from—a place to which she vowed she'd never return.
With the same propulsive writing and acute understanding of human instincts that captivated millions of readers around the world in her explosive debut thriller, The Girl on the Train, Paula Hawkins delivers an urgent, twisting, deeply satisfying read that hinges on the deceptiveness of emotion and memory, as well as the devastating ways that the past can reach a long arm into the present.
Beware a calm surface—you never know what lies beneath.(from Amazon)
I LOVED The Girl on the Train…can't wait to read this!
9. Rich People Problems by Kevin Kwan
Kevin Kwan, bestselling author of Crazy Rich Asians and China Rich Girlfriend, is back with an uproarious new novel of a family riven by fortune, an ex-wife driven psychotic with jealousy, a battle royal fought through couture gown sabotage, and the heir to one of Asia's greatest fortunes locked out of his inheritance.
When Nicholas Young hears that his grandmother, Su Yi, is on her deathbed, he rushes to be by her bedside—but he's not alone. The entire Shang-Young clan has convened from all corners of the globe to stake claim on their matriarch's massive fortune. With each family member vying to inherit Tyersall Park—a trophy estate on 64 prime acres in the heart of Singapore—Nicholas's childhood home turns into a hotbed of speculation and sabotage. As her relatives fight over heirlooms, Astrid Leong is at the center of her own storm, desperately in love with her old sweetheart Charlie Wu, but tormented by her ex-husband—a man hell bent on destroying Astrid's reputation and relationship. Meanwhile Kitty Pong, married to China's second richest man, billionaire Jack Bing, still feels second best next to her new step-daughter, famous fashionista Colette Bing. A sweeping novel that takes us from the elegantly appointed mansions of Manila to the secluded private islands in the Sulu Sea, from a kidnapping at Hong Kong's most elite private school to a surprise marriage proposal at an Indian palace, caught on camera by the telephoto lenses of paparazzi, Kevin Kwan's hilarious, gloriously wicked new novel reveals the long-buried secrets of Asia's most privileged families and their rich people problems. (from Amazon)
10. I am Pilgrim by Terry Hayes
"I Am Pilgrim is simply one of the best suspense novels I've read in a long time." —David Baldacci, #1 New York Times bestselling author
"A big, breathless tale of nonstop suspense." —Janet Maslin, The New York Times
"The pages fly by ferociously fast. Simply unputdownable." —Booklist
A breakneck race against time…and an implacable enemy.
An anonymous young woman murdered in a run-down hotel, all identifying characteristics dissolved by acid.  A father publicly beheaded in the blistering heat of a Saudi Arabian public square.  A notorious Syrian biotech expert found eyeless in a Damascus junkyard.  Smoldering human remains on a remote mountainside in Afghanistan.  A flawless plot to commit an appalling crime against humanity.  One path links them all, and only one man can make the journey.  Pilgrim.(from Amazon)
ONE MORE FOR GOOD LUCK…
Lisa Gardner's runaway New York Times bestseller—a fast-paced thrill ride featuring Detective D. D. Warren.
Seven years ago, carefree college student Flora Dane was kidnapped while on spring break. For 472 days, Flora learned just how much one person can endure.
Miraculously alive after her ordeal, Flora has spent the past five years reacquainting herself with the rhythms of normal life, working with her FBI victim advocate, Samuel Keynes. She has a mother who's never stopped loving her, a brother who is scared of the person she's become, and a bedroom wall covered with photos of other girls who've never made it home.
When Boston detective D. D. Warren is called to the scene of a crime—a dead man and the bound, naked woman who killed him—she learns that Flora has tangled with three other suspects since her return to society. Is Flora a victim or a vigilante? And with her firsthand knowledge of criminal behavior, could she hold the key to rescuing a missing college student whose abduction has rocked Boston? When Flora herself disappears, D.D. realizes a far more sinister predator is out there. One who's determined that this time, Flora Dane will never escape. And now it is all up to D. D. Warren to find her. (from Amazon)
There it is!  My Top Ten (+1 Extra) Reading List for Summer 2017!
How about you? Have you read any of these yet?  Have I missed any good ones?  Hit the Comment button, I'd love to hear from you!